EDIT MAIN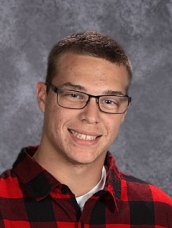 Kimball High School selects Triple A award winners
Casey Gohmann and Julia Zipoy are selected from Kimball High School. Established in 1988, the Academics, Arts, and Athletics Award (Triple "A" Award) is sponsored by the Minnesota State High School League. The award goes to high school seniors who have a "B" or better grade point average and who participate in League-sponsored athletic and fine arts activities.
Julia is the daughter of Sarah and Tom Zipoy. Julia is involved in volleyball, softball, trap shooting, band and knowledge bowl. Julia plans to attend the University of Wisconsin-La Crosse, pursuing a degree in the science/health field. Casey Gohmann is the son of Sheri and John Gohmann. Casey is involved in football, basketball, band, golf and trap shooting. Casey plans to attend either the U of M or NDSU next fall to pursue accounting or agribusiness. Casey and Julia will compete in the District 20 Triple A banquet held at Paynesville on January 9.
Congratulations to Casey and Julia for their outstanding achievements and making Kimball proud!
MN State High School League Activities Start Dates:
Fall Athletics Start Dates
Winter Athletics Start Dates


Spring Athletics Start Dates
Swimming
Aug 13, 2018
Boys Basketball
Girls Basketball
Nov 19, 2018
Nov 12, 2018
Baseball
Mar 18, 2019
Football
Aug 13, 2018
Wrestling
Nov 19, 2018
Softball
Mar 11, 2019
Volleyball
Aug 13, 2018
Gymnastics
Nov 12, 2018
Golf
Mar 18, 2019
Cross Country
Aug 13, 2018
Alpine Skiing
Meeting 11-8-18 @ Powder Ridge

Track
Mar 12, 2019
JH Volleyball
JH Football
Aug 27, 2018
Aug 27, 2018
JH Girls BB
JH Boys BB
Oct 30, 2018
Jan 02, 2019
JH Softball
JH Baseball
Mar 25, 2019
April 2, 2019
| | |
| --- | --- |
| Other Activities Start Dates | |
| One Act Play | Nov 5, 2018 |
| Speech | Dec, 2018 |
| Trap Shooting | Feb. Sign up |
| Fall Musical - "Grease" | Aug. 20, 2018 |