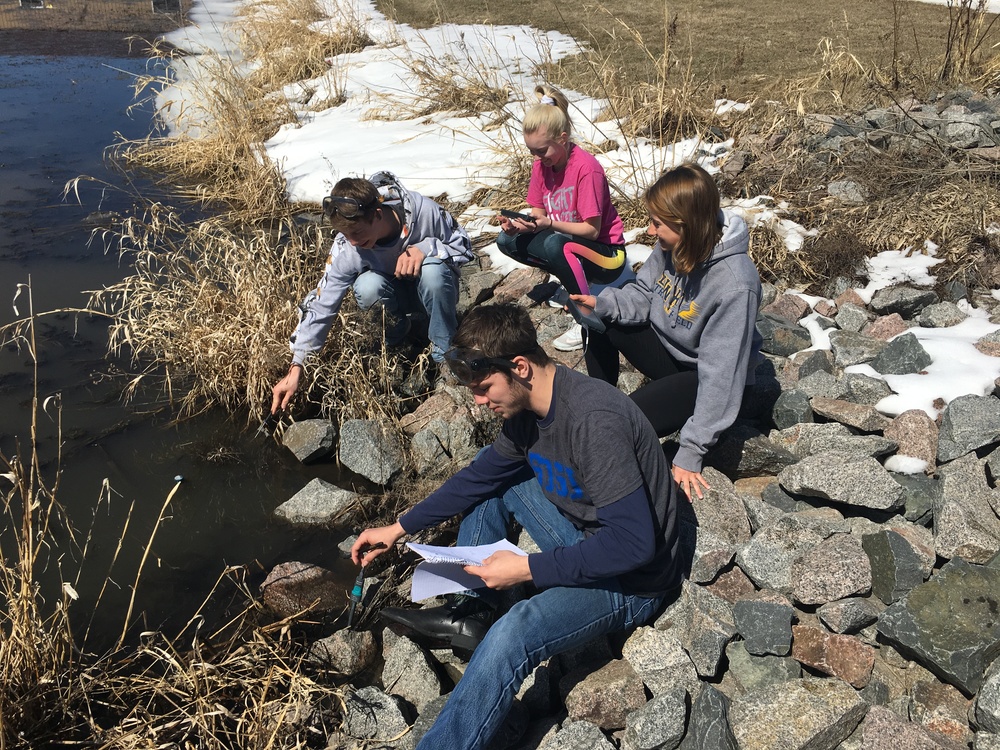 Science & Ag Departments Receive $15,000 in Grant Money
Zach Boser
Thursday, April 19, 2018
Spring is a busy time for many of us, with the snow melting and warmer weather on its way, and most of us longing to be back outside. The Kimball Area High School Science and Agriculture Departments have been extra busy applying for a grant through the Sauk and Clearwater Rivers Watershed District. The goal of the Watershed District is to support many projects and programs that compliment their mission "to apply our unique abilities and authorities in ways that protect and enhance our Watersheds resources for today and tomorrow." What better way to meet this mission than with getting kids hands-on experience investigating the watershed of their communities.
The use of technology in science and agriculture is increasing with the industry developing new ways to use technology in their research and scientific investigations. That means the demand for schools to incorporate more technology in increasing as well. As a small school with limited budgets, the demand for this technology has not been possible. This money has been allotted to boost the technology these students have been missing without impacting the budgets of the programs.
Zach Boser and Jeannette Dammann representing the science department will be using this money to purchase twelve Vernier Labquest 2 mobile data collection interfaces and over 10 different sensors to measure temperature, turbidity of water, dissolved particles and soil moisture. These sensors and equipment will be used to analyze the water quality of lakes, rivers and streams in the area along with investigating the quality of the soils in the communities. The end goal is being able to look at the physical profile of a lake and looking at the biodiversity of an ecosystem.
Michaela Gallup, Kimball's Agriculture teacher, will be using her funding to incorporate more scientific investigations into her agriculture program. Students will use scientific inquiry to determine how best management practices will allow agricultural producers to feed a growing global population with less inputs and less effects on the surrounding environments. By drawing these conclusions, students will be able to analyze and evaluate local, state, and federal laws that regulate watersheds.
The KAHS Science and Agriculture departments would like to thank Adam Hjelm from the Sauk River Watershed District for the opportunity to apply for the grants and awarding the school the $15,000 in grant money. This has allowed the departments to integrate more technology into the classrooms were the technology has been lacking, allowing students in the STEM fields to be more prepared when they leave the KAHS schools. The departments plan on rolling out the use of these materials this spring!