Writing Buddies
Kimberly Looman
Monday, January 14, 2019
Writing Buddies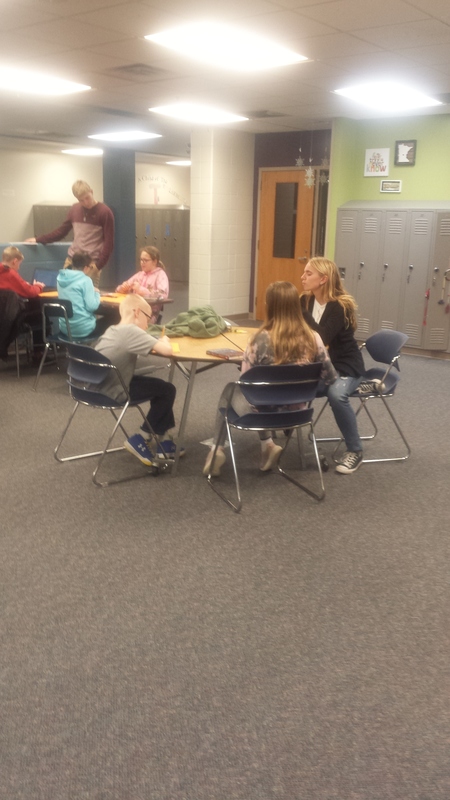 Sixth grade students were joined by Mrs. Ochs' College Composition class during the beginning stages of writer's workshop. The seniors became "Writing Buddies" by helping sixth graders through the process of prewriting: planning and outlining. The goal was for students to learn how to "write right" from collaborating with more experienced writers. The writing buddies focused on developing strong arguments through reasoning and textual evidence then synthesizing the information into paragraphs.
Students on both sides of the writing process gained much from the experience. Sixth grade student Madalyn Simpson said, "I thought that the writing buddies were very helpful. They helped me understand what I was doing. It was really fun to get to see what ideas they had. I also loved getting to know them. They taught me some things I didn't know before as well."
"My experience was awesome," Brandon Henkemeyer, sixth grader, commented. "They were helpful, fun, and they helped me get my work done on time."
Zoe Stuve, sixth grade student, stated, "I liked having the writing buddies because it was nice to have someone else's opinion about what you are writing. Thank you for helping us. They were so willing to help and so nice about it."
College Composition student Erin O'Brien said, "I enjoyed my experience with helping the sixth graders. It was fun to see how much they knew about writing and being able to help them understand what they needed in their essay. It also was a different experience when all of us seniors walked into the room and had almost 30 pairs of eyes glued on us for a solid five minutes."
"It was fun helping the kids out. I hope that I helped make their essays better," commented senior Casey Gohmann.
Senior Sidney Schreiner shared, "I really enjoyed working with a variety of 6th graders over 3 days. I was able to help kids develop an outline for their essays and elaborate on the story they had read. It was so awesome seeing the kids open up to us older kids and be willing to let us help them with their writing. I also enjoyed seeing the 6th graders work together to come up with an answer and help their classmates when they were struggling. I hope the 6th graders enjoyed writing buddies as much as I did!"
Students in both grades are looking forward to working together again.