EDIT MAIN

Play and Learn Preschool provides a variety of hands-on activities within a two hour and 45 minute class period. Children have daily practice in playing and working with others. Activities are planned for optimal growth and learning in the following areas: language and literacy, math, art and music, small and large motor development, problem solving, independence skills, and cooperation. Learning takes place within the context of purposeful play. Play and Learn Preschool helps nurture enthusiastic learners and prepare children for kindergarten.
Now ENROLLING for 2018 - 2019 Preschool & Enrichment Program

We are now accepting registration for the 2018 - 2019 school year. We are offering several different class choices, again this year. You can pick from 2 day, 3 day, or 4 day a week preschool (depending upon the age of your child). You can also pair our 1/2 day a week preschool classes with our Enrichment program to create an ALL DAY option for your child.

You may download the 2018 - 2019 Preschool Registration Form below. Registration and class selection is based on a first come, first serve basis. Scholarships and financial aid information is also available. Please the Early Childhood office to find out more information.

Call the Early Childhood office or e-mail to register or with any questions:
(320) 398- 7700 ext. 2802
lisa.hennen@kimball.k12.mn.us
2018 - 2019 Preschool Registration Form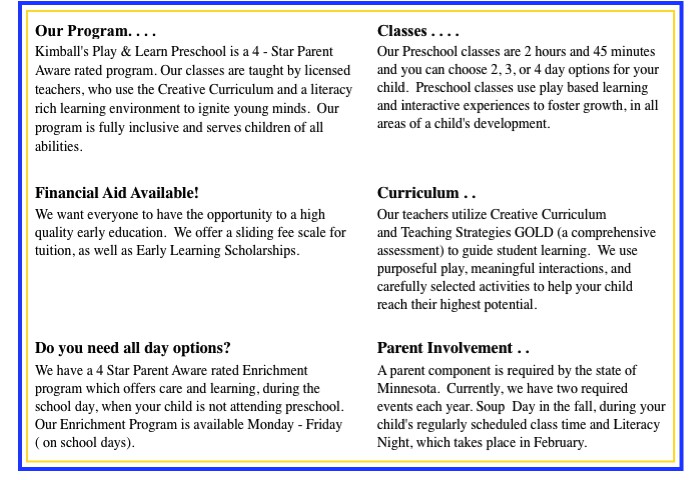 Kimball Play & Learn Preschool follows the District Calendar.
Contact Us
Thank you for choosing Kimball Play and Learn Preschool.
If you have any questions please call or email Lisa Hennen Early Childhood Coordinator at 320-398-7700 ext. 2802
---