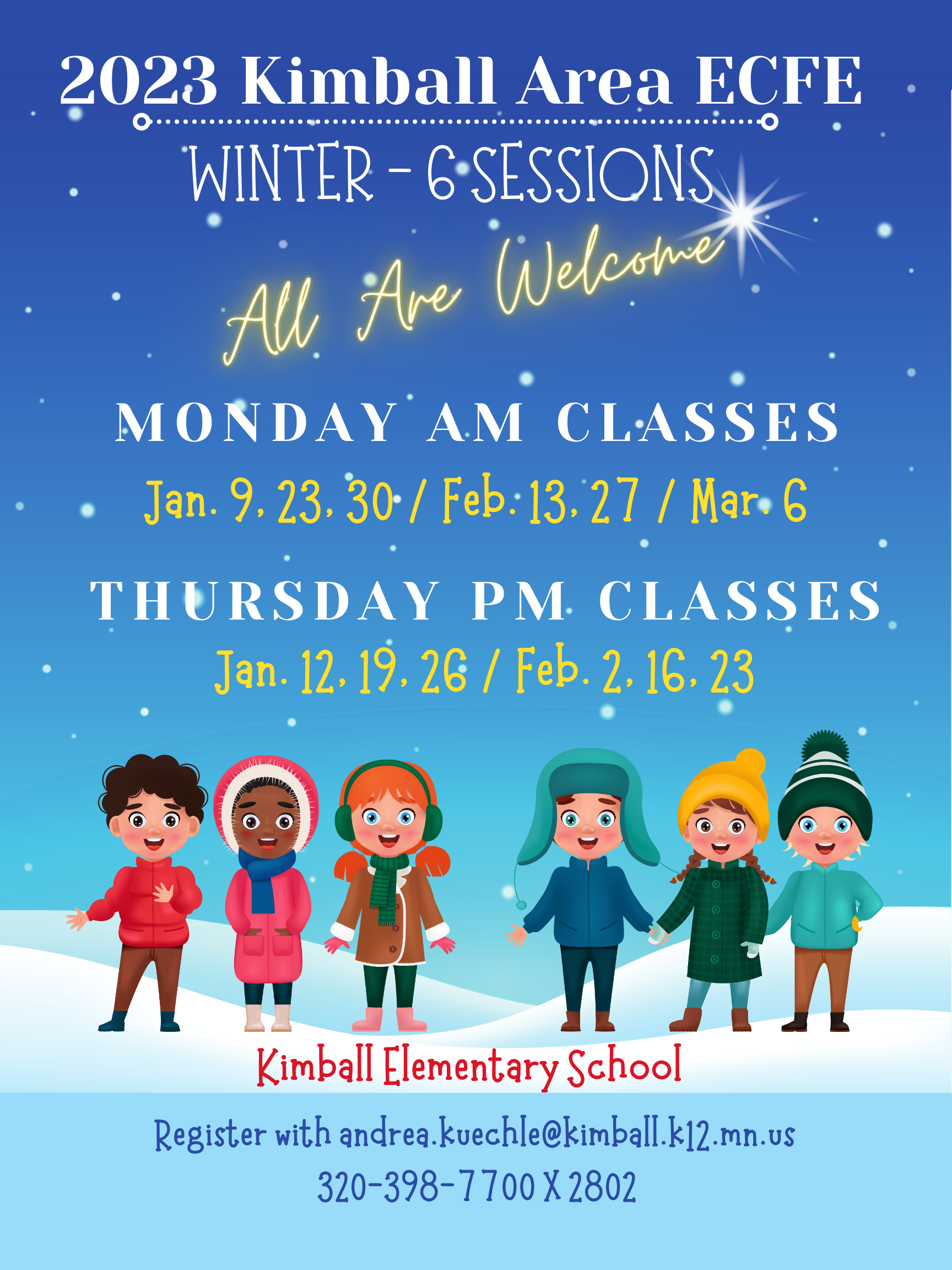 Mark your calendars for our Sweetheart Dance on Feb. 10, 2023!

"Early Childhood Family Education (ECFE) is a program for all Minnesota families with children between the ages of birth to kindergarten entrance. ECFE is based on the idea that the family provides a child's first and most significant learning environment and parents are a child's first and most important teachers. ECFE works to strengthen families. ECFE's goal is to enhance the ability of all parents and other family members to provide the best possible environment for their child's learning and growth." (Early Childhood Family Education. Retrieved November 11, 2015, from http://education.state.mn.us/MDE/StuSuc/EarlyLearn/ECFE/).
Kimball's ECFE program offers several parent-child classes each year. A combination of morning and evening classes are offered. There are also several weekend opportunities and other special events offered throughout the year.
2023 Winter ECFE CLASS SCHEDULE
Play With Me

A 1.5 hour long, traditional morning ECFE class for families with children ages 6 weeks to 5 years old. This class encompasses art exploration, child-led playtime, a teacher-led circle time, and a half-hour of parent education time.

Monday Mornings- 9:00-10:30 am
Ages: 6 weeks to 5 years
Offered:
6 Week Winter Session - Begins Jan. 9, 2023
*Registration Required
Class Schedule: Jan. 9, 23, 30 / Feb. 13, 27 / March 6
Register for one or all sessions!
The Incredible Years
This is a family class for children ages birth-age 2 and their families. The class is one hour long and will include: parent and child interaction and activity time, circle time, and parent education topics. This is a non-separating class. Class held in Room K3 at Elementary School (enter through Door #1).
Thursday Evenings-6-7 pm
Ages: Birth-2 year old
Offered:
6 Week Winter Session - Begins Jan. 12
*Registration Required
Class Schedule: Jan. 12, 19, 26 / Feb. 2, 16, 23
Register for one or all sessions!
Home / Child Care Center Visits
Not ready or able to attend a class, or need individualized support? Our ECFE program offers FREE family home and daycare visits within the school District.

A licensed child/parent educator will come to your home or daycare and provide you with resources, information, and activities to help support learning.

Please call or e-mail to set up a visit:
andrea.kuechle@kimball.k12.mn.us
(320) 398 - 7700 ext. 2802
Payment
A sliding fee scale is used for classes in which payment is required. This means that the fee is based on family income. No family is turned away due to inability to pay for parent/child ECFE classes!

Pre-registration is required for ECFE classes.
Kimball Early Childhood
Attn: Andrea Kuechle
P.O. Box 368
Kimball, MN 55353

Even if a class has already begun, you may be able to register and join if there is space, so please do not hesitate to call.

ECFE Office: (320) 398 - 7700 Ext. 2802
E-mail: andrea.kuechle@kimball.k12.mn.us
Because of the nature of the classes, classes with fewer than 4 families registered will be canceled. Please register early so we can best prepare.
Do you have a new baby?

New Baby Welcome Packets or Home Visits
If you have an infant contact our office for a free Welcome Baby visit. These are short 30 minute visits, that provide you with a welcome gift from our program and share with you want to support and resources are available to you and your newborn child.
Contact: Andrea Kuechle