Kimball Robotics qualified for the world's largest robotics competition and earned the privilege to send three teams to the 2023 World Championships in Dallas, Texas, this past month. The high school team 739B and the middle school team 739E competed at World's between April 25-29. Kimball's elementary IQ team 55353D competed at World's from May 2-4.
More than 20,000 robotics teams from across the globe were invited to the World Championships this spring, which included only 13 high school, 15 middle school and five elementary teams from Minnesota.
Team 739B members are (from left): Head Coach Kevin Kieke, Elaina Fink, Savannah Lommel, Mitchell Kunkel, Andrew Hennen, Carter Lommel and Nathan Just.

This is the culmination of an exciting season for Kimball's Robotics teams, which began with hosting the second-largest robotics tournament in Minnesota with 123 teams from around the state, back in January. Kimball teams earned several awards during the competitive season, and all six of Kimball's middle and high school teams, along with the four Kimball IQ elementary teams, were invited to the Minnesota State Championships in early March, which resulted in three Kimball teams qualifying for World's.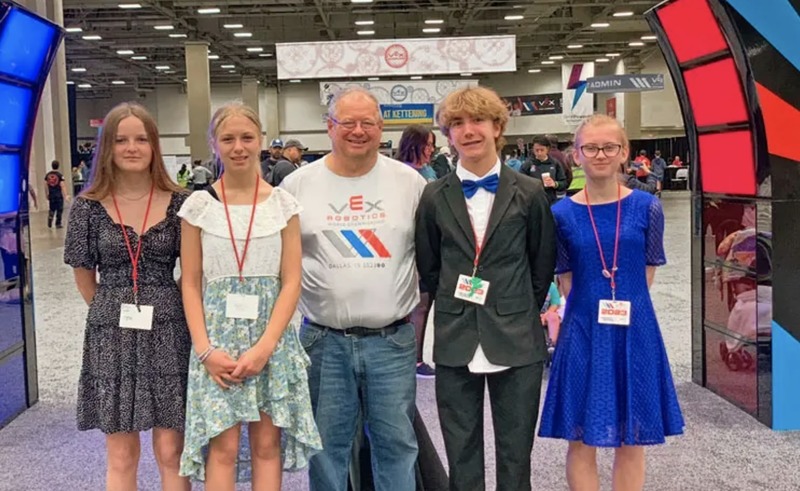 Representing Kimball's Team 739E in the middle school division at VEX World 2023 in Dallas were (from left): Isabelle Just, Brooke Mertens, head coach Kevin Kieke, Tyler Charboneau and Erin Helgeson.

It certainly was a community effort this spring, raising the funds needed to send Kimball's three teams to Dallas. Thank you to all of our donors who helped make the World's experience a reality.
The high school 739B team faced some very tough robotics teams from around the world in Dallas. They finished 2-8 overall.
The middle school 739E team finished the tournament 6-4, placing 26th in their division. This impressive finish lands them in the top 200 teams in the world.
Team 55353D in the IQ elementary division was represented by Adam Foos (left) and Reino Hendrickson. Not pictured were coaches Mike Kunkel and Andrew Freeman.

Kimball elementary IQ team 55353D (the roBots) used their skills to communicate with other teams from around the world. They placed 577th in the Skills competition and showed the world how they could drive a robot with skills to impress, taking 50th in the division that eventually earned 1st place honors at the World's IQ competition.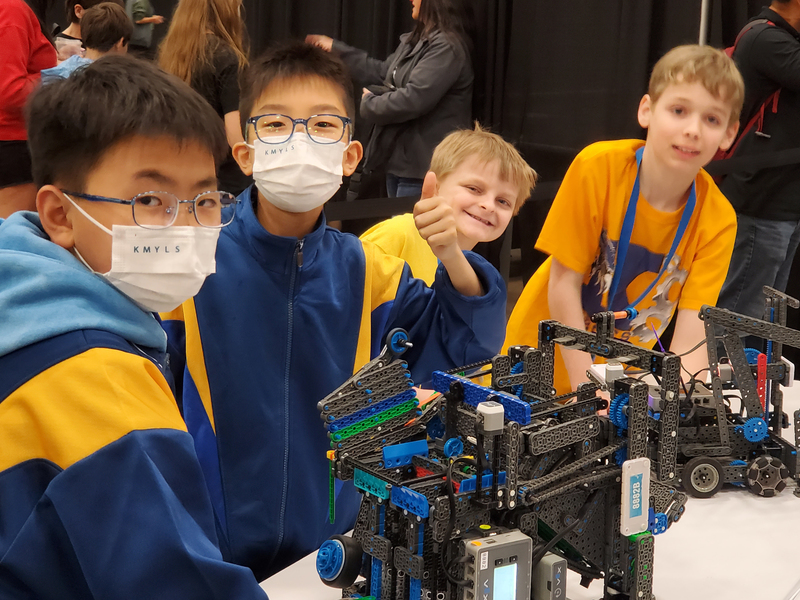 "This was a great educational experience for all of us and I am very grateful to have had this experience with our IQ team, their families and Coach Freeman," said IQ head coach, Mike Kunkel.
A special thank you to the Kimball families who traveled down to Dallas and took on the challenge of volunteering at the World Championships to help make this event possible for all.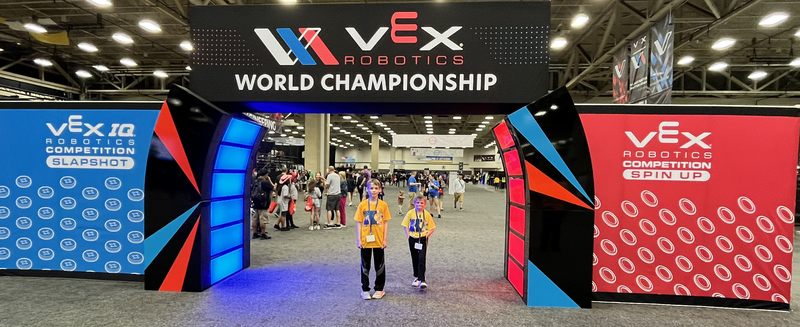 "Congratulations to all of our 2022-23 Kimball Robotics teams for their great season. I'm grateful for all of the support from parents, the district and the community." said Kimball's head robotics coach, Kevin Kieke.
#KimballRobotics