In just their second season, the Kimball Vex IQ Robotics squad has qualified two teams for the 2021 Vex IQ World Competition in May.
"We are excited and thrilled to be sending two Kimball Vex IQ Robotics teams to the 2021 Vex IQ World Competition this month," said head coach Mike Kunkel.
Kimball's only IQ middle school team, Team F Vexcellent, tabbed the Design Award at the State Championships to earn an invite to the World's Competition.
Team F Pictured Above: (L to R Back Row) - Kade Ochsendorf, Breyden St. Onge, Max Zoller. (L to R Front Row) - Rhone Durga, Macy Hilsgen, Donovon Meyer.
Kimball is also sending one IQ elementary school team to the World's Competition. Team B Elephants earned the Teamwork 2nd Place honors at the State Championships in April to tab an invite to World's.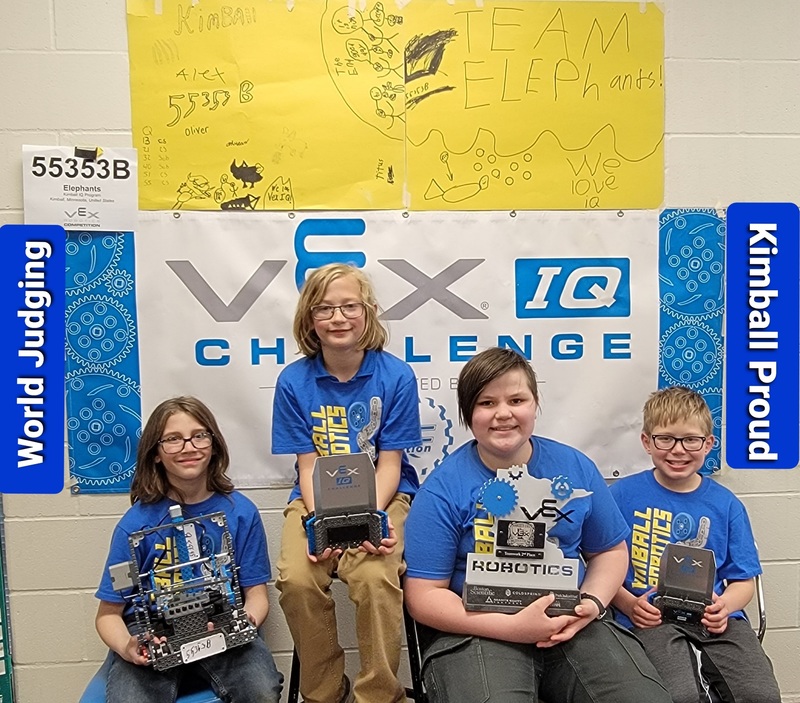 Team B Pictured Above: (L to R) - Oliver Kunkel, Adrian Gallagher-Mancini, Titus Dillman, Alex Fink.
Team B Elephants and Team F Vexcellent underwent World's Judging on May 1-2 at the Kimball High School.
"Both teams performed great during their interviews. They were able to talk about their robots and this year's game. All of the kids shared their opinions and seemed to have a great time doing it," stated Coach Kunkel.
Jesse Lesnau, the team's assistant coach, added, "We had strong judging sessions, showing teamwork and selflessness. Each student did a great job contributing."
The Kimball Vex IQ teams are excited to compete in the remote World's Competition the week of May 24-29.
There will be a Pep Fest on May 20 from 1:30-2:00 pm at the Kimball Elementary School for grades PreK-6 to send off our teams to the World's Competition in Kimball Proud fashion.

If you'd like to make a donation to the Kimball Vex IQ program, contact the Kimball Community Education office at 320-398-7700 X 1112. Thank you to the local families and businesses who've already contributed to our Vex IQ program.
#StrongerTogether #KimballVexIQ #KimballCubs #KimballProud