History was made when the Kimball girls' varsity basketball team traveled to Belgrade on Feb. 25 for its final Central Minnesota Conference game of the season at BBE. Ellie Kuechle, a junior guard for the Cubs, became the 9th player in school history to score her 1,000th career point in the contest. Kimball held on for a thrilling 64-55 victory, guaranteeing the squad a share of the 2021-22 CMC Conference Championship.
"This group has come a long way in the last two years and I am so incredibly proud of them all," said head coach Jeremy Kuechle. "It's such a journey through all the ups and downs, but I think my favorite part of tonight's game was just watching them jump up and down in celebration in the locker room after the victory."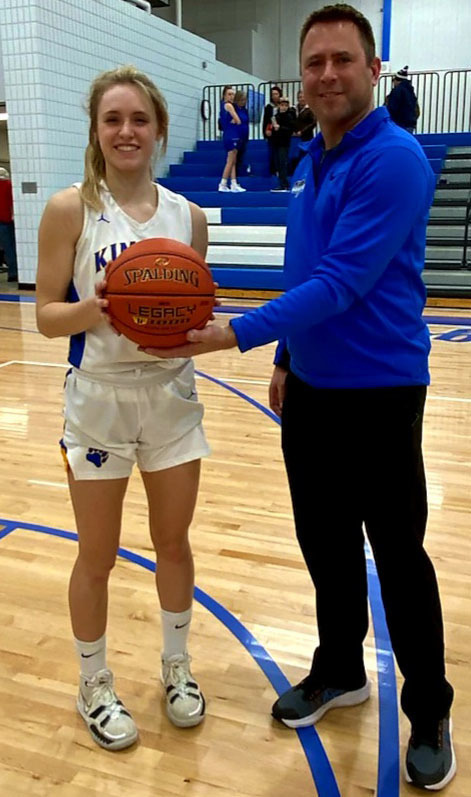 Head Coach Jeremy Kuechle handing his daughter, Ellie Kuechle, the game ball.
Stat Line:
Madelyn Hunt: 1 pt, 6 rebounds, 6 assists, 5 steals
Olivia Mortenson: 13 pts, 7 rebounds
Allie Leither: 1 pt, 2 rebounds
Ellie Kuechle: 23 pts, 9 steals, 4 assists
Ava Molitor: 5 pts, 7 rebounds
Kristen Hilbert: 21 pts, 11 rebounds, 2 blocks
#KimballHoops